Steamed Palourde Clams with Salsa Verde Recipe by Maxime Le Van, from DRIFT Beach Dubai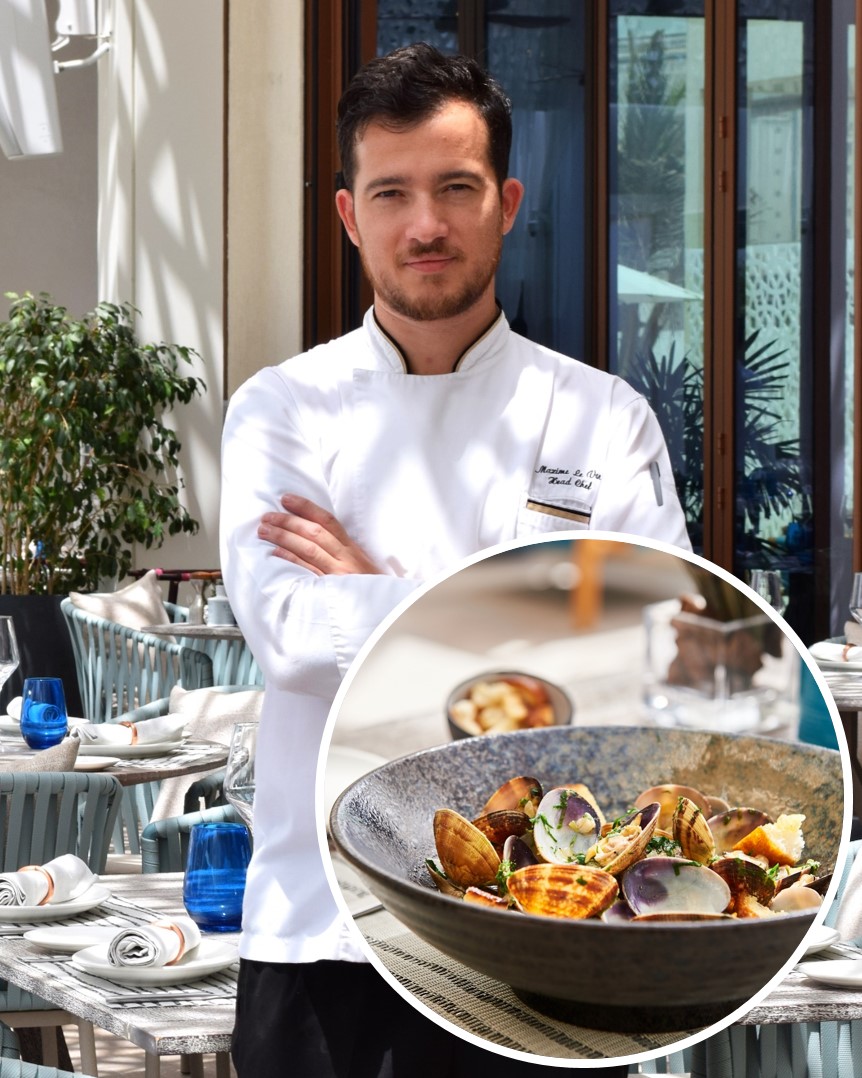 About the Chef
Born in Nice, France, Maxime Le Van is the culinary mastermind behind DRIFT Beach Dubai – a memorable destination spot that serves Provençal cuisine within an ambiance of effortless elegance. Chef de Cuisine since 2017, the highly-experienced chef is responsible for a delectable menu of fresh fish, seafood, Mediterranean classics and more, all delivered with skill, flair and elegance.
As a passionate food lover, the prolific chef has dedicated his career to exploring different cooking techniques. He believes in honest, responsible food delivered with skill, flair and elegance. His cooking style is inspired by the Mediterranean, more specifically Provence, his native region in France. He encourages his brigade to cook using the senses, rather than blindly following a recipe – each dish is cooked precisely and retains its own beautiful texture and individuality.

Ingredients
For the steamed clams:
1.5kg of palourde clams (local clams can also be used when in season)
1 small onion, finely chopped
1 big garlic clove, finely chopped
1 tbsp of chopped parsley
2 tbsp of extra virgin olive oil
2 tbsp of unsalted butter
1 tbsp of fresh lemon juice
Black pepper & chili flakes to taste
For the croutons:
1 half baguette
2 garlic cloves
2 sprigs of thyme
1 sprig of rosemary
2 tbsp of extra virgin olive oil
Sea salt & pepper to taste
For the roasted garlic broth:
3 garlic heads
2 tbsp of extra virgin olive oil
1 small carrot
1 celery stick
1 small onion
1 small fennel bulb
6 medium sage leaves
1 sprig of thyme
1 sprig of rosemary
1 dried bay leaf
Some parsley stalks
1 tsp of fennel seeds
Sea salt & black peppercorn to taste
For the salsa verde:
1 handful of parsley leaves
3 sprigs of mint
3 sprigs of basil
1 sprig of oregano
2 spring onions
2 tbsp of capers
1 tbsp of anchovy
1 tbsp of fresh lemon juice
¼ lemon zest
4 tbsp of extra virgin olive oil
Black pepper to taste
Method
Start with the broth. Separate the garlic cloves from the heads and crack them slightly using the flat side of a chef's knife, do not peel the cloves – the skin will protect the garlic from burning during roasting. Transfer the cloves into a medium frying pan and add the olive oil, cook on low heat, stirring regularly for about 20 mins, or until the garlic gets really soft and caramelized.
Clean, peel and roughly chop the vegetables and add to a pot with ½ litre of water, with the roasted garlic and the rest of the ingredients. Bring to a simmer and immediately reduce the heat to a minimum. Cover the pot with a lid and let it infuse for 30 mins without boiling.
Strain through a fine sieve lined with a cheese or muslin cloth if available and reserve.
For the croutons, preheat the oven at 180°C, cut the baguette in 1 cm size cubes, transfer onto a roasting tray, drizzle with the olive oil, season with salt and pepper, crack and add the garlic cloves along with the thyme and rosemary, and bake in the oven until golden brown and crisp. Allow to cool down at room temperature.
To make the salsa verde, pick all your herbs and add the leaves along with the rest of the ingredients in a small blender and pulse until you obtain a medium coarse sauce like pesto, reserve at room temperature (do not make long in advance).
When ready to serve, heat up a wide pan on medium heat; add the chopped onion, garlic and 1tbsp of olive oil, sauté gently until the onion starts to brown on the edges before adding the clams. Season with pepper and chili flakes to your taste, sauté until some of the clams start opening; pour in the broth, the lemon juice and add the last tbsp of olive oil, the butter and chopped parsley; cover with a lid and turn up the heat to high and let steam for about 45 seconds or until all of the clams are open.
Taste the broth for seasoning, adjust to your taste if needed, drizzle with the salsa verde, give it a quick mix and serve immediately in bowls along with the croutons separately.
---
Visit DRIFT Beach Dubai for more