Mint Leaf of London, one of the most exclusive venues in Dubai, unveils a selection of authentic Indian cuisine with an innovative contemporary twist that promises a truly exceptional gastronomic experience.
About
Mint Leaf is one of the most sought after Indian fine dining restaurants in Dubai today! They bring to life some of the most iconic dishes from the rich culture of India, with their own unique twist. Their eclectic Indian cuisine is prepared through techniques that draw out the richest aromas and essences from our fresh traditional ingredients, thus inspiring a sense of authenticity to each culinary masterpiece. Beyond the stellar flavours though, their dishes are plated and styled with the modern flair of first-class fine-dining. Not an ounce of attention to detail is spared, to bring you dishes that look artistic and absolutely mouth-watering (their cocktails are amazing btw)!
The Diwali Menu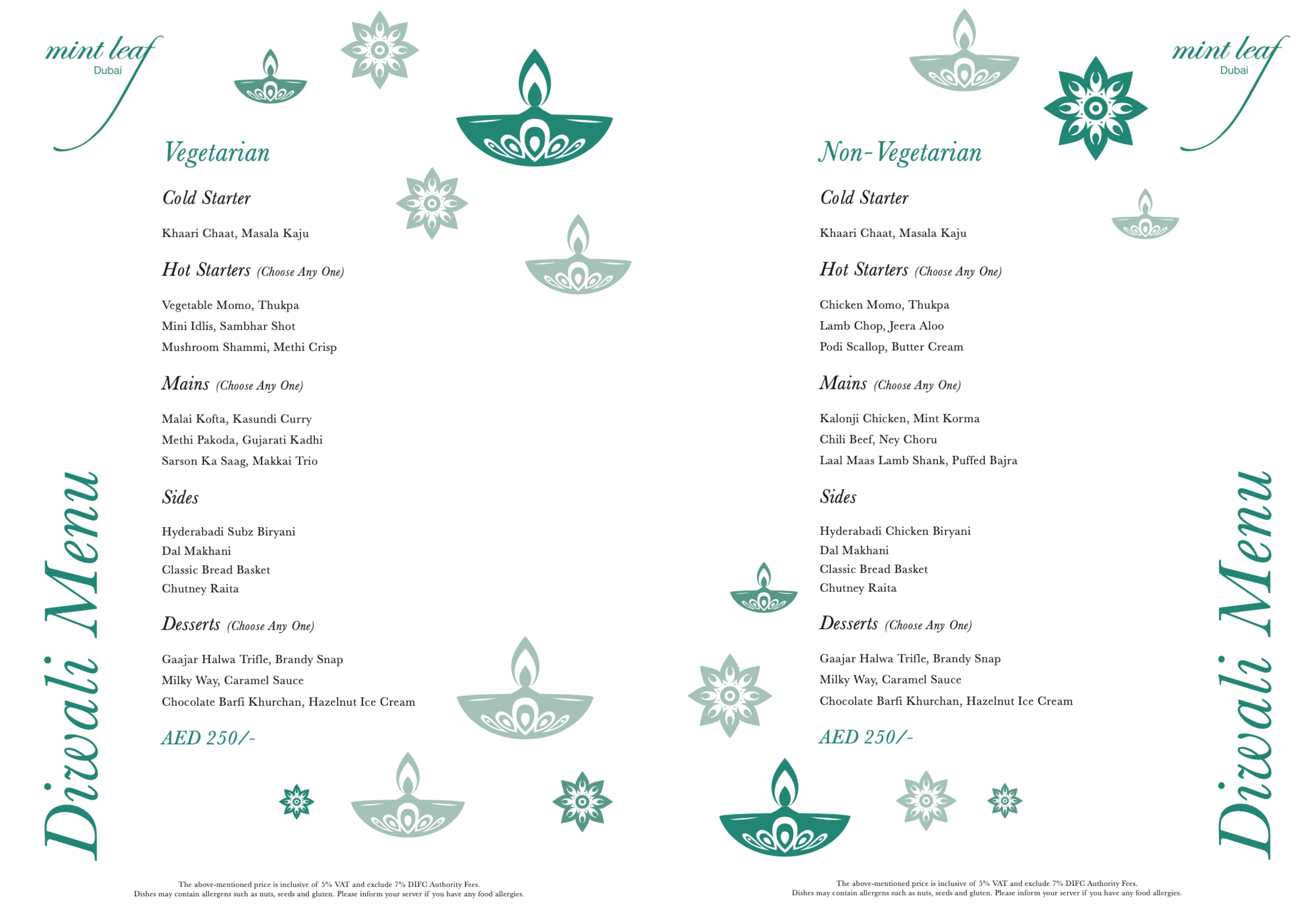 They cater to the vegetarian and non-vegetarian people and are both priced evenly at AED250. Usually, restaurants charge higher for Non-vegetarian! We tried a mix of both ☺️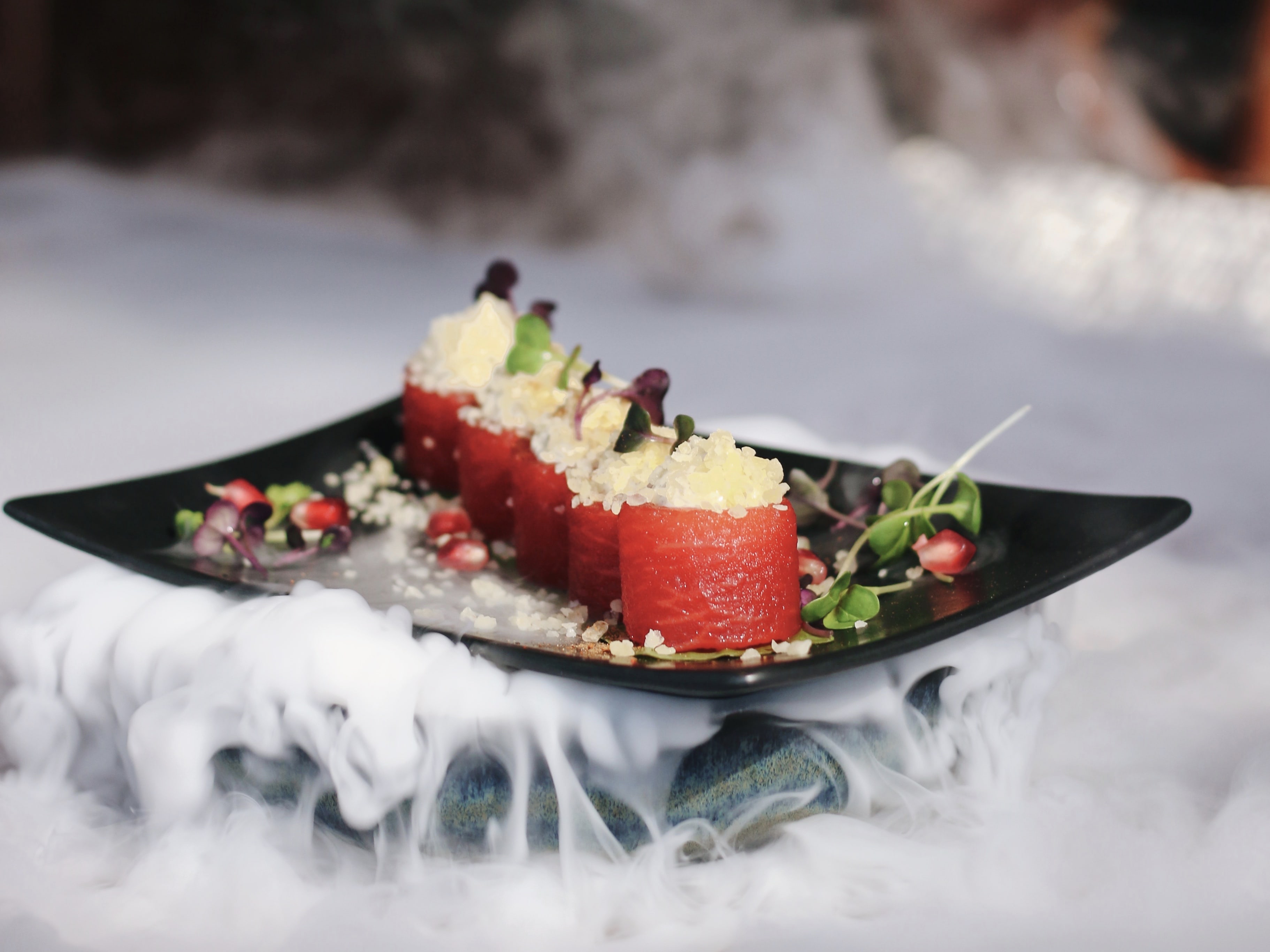 Our meal first started with an amuse-bouche – watermelon with cream cheese and popping candy 😍 we loved a cold watermelon considering it was like 45 degrees outside, with popping candy in the mouth 😂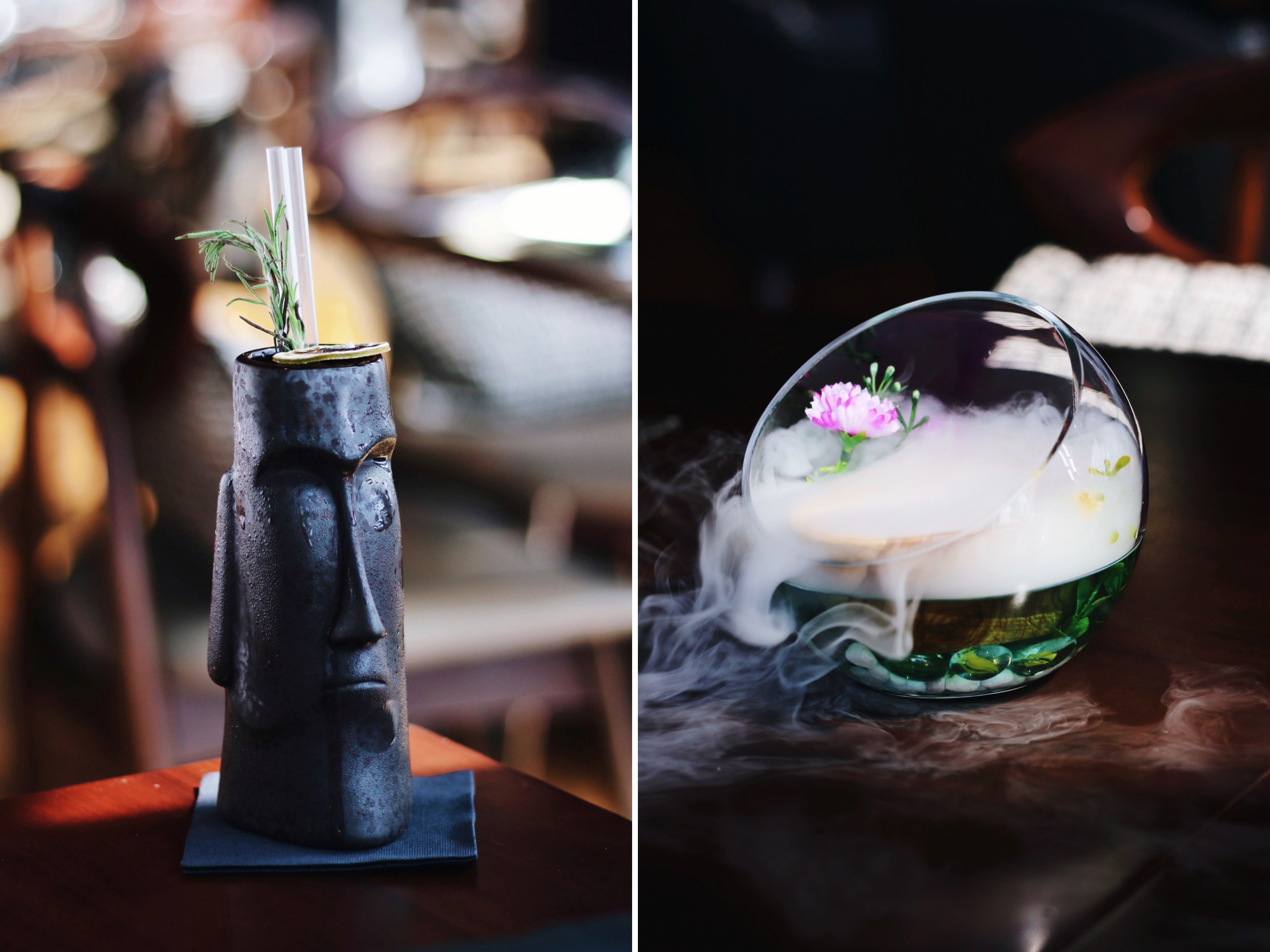 Their cocktails are delicious, and needless to say, they upped their game with their Diwali cocktails as well. The left one is called Avegam with smoked whiskey and banana and the right is Nirvana that's a concoction of spiced rum with aam papad.

The Khaari Chaat was something unexpected, it was a mixture of dahi bhalla chaat topped up with potato stuffed khari & drizzled with chutney trio 🤤 it was cold, spicy, crispy, warm, and everything nice!

Next were these beautiful Mini Idlis with a Sambhar Shot and Chutney Foam. I have never seen anything like it! The foam was not just foam, it had chunks of coconut in them, and the sambar wasn't regular liquid sambar you may usually find at fine dining restaurant, it had proper veggie chunks and lentils! 🤩 The idlis, were definitely the star – although they were small, the tenderness on the inside, remained.

At this point we were like damn.. could it get any better? And then the Home-made Chicken Momo along with crispy noodles served with traditional thukpa soup was served. This dish is native to entire North-East India!
By now you would have figured out, all the dishes served on this Diwali menu were originated from different parts of India! 🇮🇳🇮🇳

The last 2 dishes in the Hot Starters were Podi Scallops in Butter Cream and Lamb Chop in Jeera Aloo. The Panko fried king scallop glazed with Chettinad spice reduction, sprinkled with gun powder along with saffron flavoured cauliflower puree was delicious! 👌🏼 I'm usually not a fan of scallops due to their strong fishy taste and gummy texture, but this was nothing like it. This scallop legit just melts in your mouth! The tandoor roasted lamb chops, on the other hand, are marinated overnight with mustard oil & fresh herbs 🌿 Dredged with some sugar before it goes in for roasting to achieve the sheen & flavour.

We finally hit the main-course! Started off with the Kalonji Chicken and Mint Korma, which were chicken thighs cooked in an aromatic curry made of brown onion paste, chicken stock & mint leaves, tempered with onion seeds. Do I need to explain how it tastes, or just the sound of that got you drooling? May the latter? 😉

The other 2 dishes were Sarson Ka Saag with Makkai Trio and Chili Beef! The former were garlic sautéed hand pounded mustard greens (not palak, nope! That's what I thought too) topped with textures of corns like nachos, masala popcorns & creamy corn galette 🌽 and the latter was crispy shredded beef served with moplah style ghee rice! 🍛 PS: That brown thing you see in the small bowls? That's sweet & tangy raita made from mint & tamarind chutney ❤️
The main course was delicious, but I personally didn't get to enjoy it as much since I was super full with the starters (the AED250 btw is so worth it!) However, my dad and partner with a massive appetite were able to enjoy everything and more 😄  The appetizers and starters were the highlights for me, for sure! Nothing gets as unique as those.

FINALLY, the dessertssssss – the Gaajar Halwa Trifle with Brandy Snap on the left, and Chocolate Barfi Khurchan with Hazelnut Icecream on the right. The former was with condensed milk & Philadelphia cheese, and the latter were barfis made with chocolate duo served along with hazelnut ice cream & pistachio tuile 💚  We HAD to get another round of the gajjar halwa, I've never tasted anything like it, once mixed, it was sinful! The Barfi was surprising, it was surprising on the palate as you taste the homemade hazelnut ice-cream, and barfi kurchan, kinda at the same time? 😜 The former was definitely the tables favorite over the barfi (although this was great as well).
Last but not least, Chef Pradeep and his team, made this PHENOMENAL cake for my birthday! It's a Baileys semi-freddo cake (mousse-like texture, but feels like icecream), I have NEVER tasted ANYTHING like it. You really need to try it believe me. My mom has never said (inspite of having 100's of cakes) that "Naomi, this is the best cake I've had", but she did at Mint Leaf. The cake has a very prominent flavor of baileys, they were very generous bout it, unlike many places that dilute the flavor! Must MUST try.
The Mint Leaf of London Diwali Menu is exceptional! You must definitely try it.
Kudos to the Mint Leaf team!
Location & Opening Hours
Nestled comfortably at the 15th floor of the South Tower of the Emirates Financial Towers, our restaurant in DIFC offers a breath-taking view of the city skyline, including the towering majesty of the engineering marvel that is the Burj Khalifa.
RESTAURANT OPENING TIMES
Mon, Thurs & Fri 12noon – 02.00am
Tues, Wed, Sat & Sun 12noon – 01.00am
BAR & LOUNGE OPENING TIMES
Mon, Thurs & Fri 12noon – 02.00am
Tues, Wed, Sat & Sun 12noon – 01.00am
If you have any questions about making a reservation call them directly +971 4 706 0900 or visit www.mintleaf.ae