Kift Ghanam Recipe by Mahmoud Bayoumi, from Tean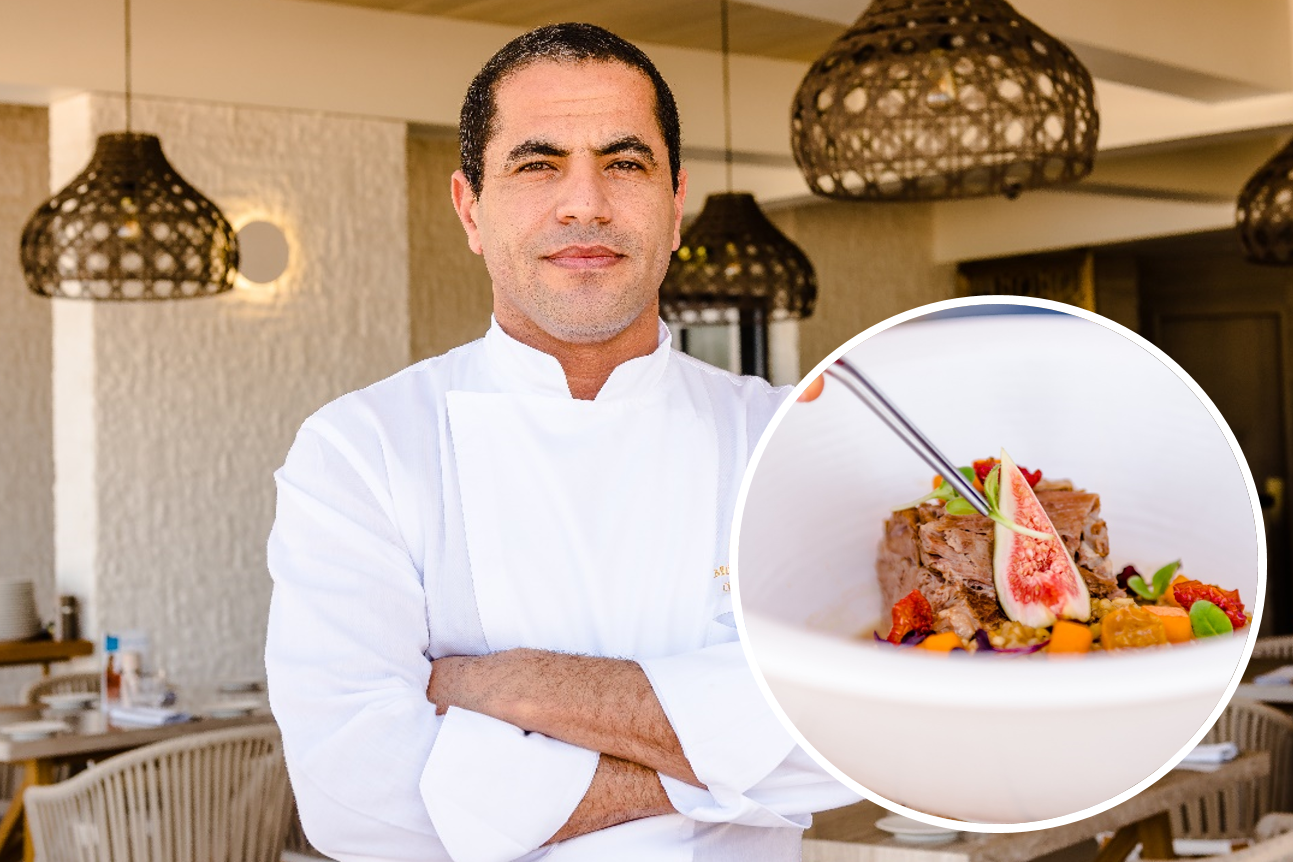 About the Chef
Chef Bayoumi has over two decades of rich culinary experience with a special flair for Arabic cuisine.
Ingredients
For 10 servings
Olive oil-extra virgin in pet bottle taverna 5ltr Greece – 100ml
Pepper black crushed 1kg UAE – 0.5g
Garlic peeled China – 10g
Onion red peeled fresh UAE – 500g
Star anise whole seed 1kg India – 10g
Celery diced fresh UAE – 200g – Add butternut squash, also dice
Leek fresh holland – 200g
Carrot cubes fresh UAE – 200g
Paste tomato la Corvinia A10 2.2kg Italy – 100g
Freeke green 1kg Lebanon – 700g
Onion white peeled American fresh UAE – 200g
Production – basic stock – chicken – 1 litre
Sugar fine granulated white 1*2kg Germany – 200g
Tomato C 1kg Hollan – 200g
Figs dried 1kg Turkey – 500g – Add even dokkah to it
Lamb shoulder bone in chilled wammco Australia – 3kg
Method
For lamb shoulder:
In a hot pan, sear lamb with some olive oil.
Place the lamb in a deep container.
Saute onion, garlic, tomato, thyme, celery, leek and carrot in a pan.
Add tomato paste.
Add it to the lamb container and add lamb juice and water.
Add star anise and coriander seeds.
Cover it well and continue to cook in the oven at 170 degrees for 3 hours.
Remove the lamb and strain the juice.
Cool the lamb in a blast chiller for 90 minutes.
Put the juice on low heat under it reduces, and thickens nicely.
Cool it down in a blast chiller.
Cut the lamb into 200g pieces.
In a vacuum bag, add the lamb with 150ml juice and close it properly.
Keep chilled.
For Freekeh:
In a pan, add olive oil and saute the onion and garlic till it becomes golden in color.
Add freekeh and saute for 3 minutes.
Add chicken stock.
Add salt and pepper as per taste.
Cover the pan for 10 minutes. It should be cooked around 70%.
For garnish:
In a saute pan add sugar on high heat, till it melts.
Add butternuts and caramelize it.
Glaze figs with some lamb juice.
For serving:
In a saute pan, glaze the lamb with juice till it gets coated evenly.
In another pan, add freekeh with some chicken stock and cook for 3 minutes.
Place freekeh in service plates and place the lamb with garnish.
---
Visit Tean for more