Palace Downtown ~ Dubai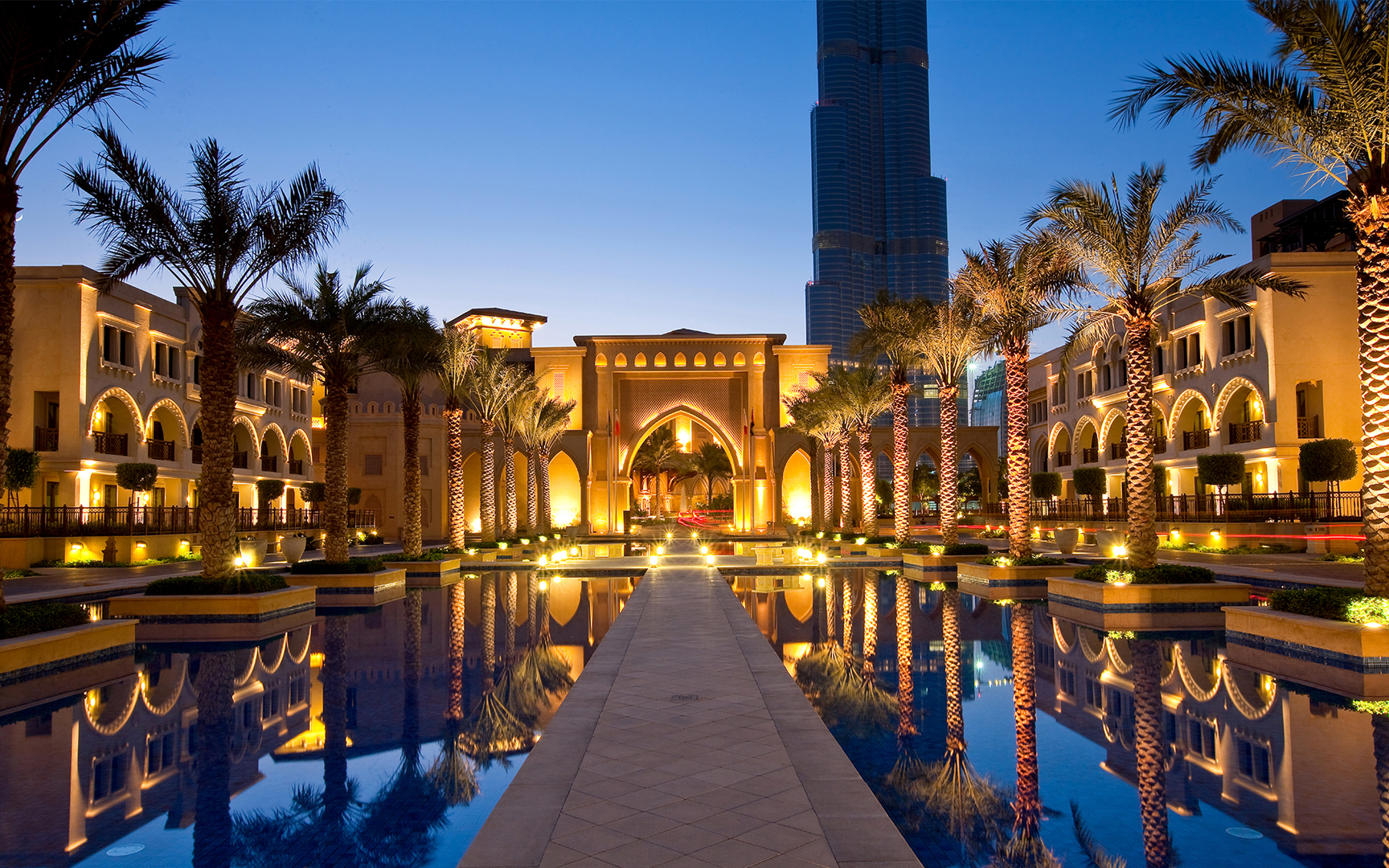 About Palace Downtown
Palace Downtown is the centerpiece of The Old Town Island in Downtown Dubai. It accommodates 242 intricately designed guest hotel rooms; each room complete with a spacious bedroom, free Wi-Fi and a private balcony offering an exquisite view of the Dubai Fountain, The Old Town, or the Burj Lake.  The palatial residence is decorated in a modern yet traditional flair, with rich Arabic culture woven beautifully into its architecture. The five-star premium hotel also features a spa that allows you to pamper yourself with facilities including hammam slabs, Jacuzzis, monsoon showers, steam rooms, and a dedicated consultation space.
Other amenities include a fitness center with personal trainers and a luxurious swimming pool with an open-air poolside lounge.
Convenience
Located in the heart of Dubai, Palace Downtown is simply a walk away from some of the greatest landmarks of Dubai. It is surrounded by the world's biggest fountain, the world's largest shopping mall, and the world's tallest building, the Burj Khalifa. It is also conveniently located near the Souk Al Bahar shopping and entertainment center. The hotel is also near several major businesses, financial institutions, and the airport, making it an ideal choice for business events.
Palace Downtown also caters to the wishes of every beautiful bride, providing an exquisite view of Dubai and various wedding packages to ensure the perfect fairytale wedding, complete with a luxurious night's stay, an extraordinary wedding cake, and a rejuvenating spa voucher to leave the bride glowing!
The Spa
With views of the tranquil Burj Lake and an exotic Arabian décor, The Spa at Palace Downtown is a majestic and exclusive retreat. Inspired by traditional heritage, The Spa is completely dedicated to well-being and relaxation in a luxurious setting. With separate areas for ladies and gentlemen, The Spa offers traditionally inspired therapies to stimulate the senses, relax the body and restore spiritual balance. The hotel's fully equipped Fitness Center provides personal training sessions and also has an outdoor temperature-controlled pool.
I got a 75 minutes hammam done at the spa and I can guarantee it's one of the best I've been to. I've never felt this soft, ever!
Deluxe Lake View Room (~AED1000++ per night)
The deluxe lake view room reflects one of the seven beautiful design styles Palace Downtown offers to its guests. The 51 sq. m room includes a spacious bedroom, an ensuite bathroom and a private balcony overlooking the Burj Lake. In-room facilities include free high-speed Wi-Fi, a work desk, Nespresso and tea making facilities, a mini bar, a flat-screen TV, and an automated in-room iPad service to cater to your every need.
Culinary Experience
For dinner, we went to Asado, an Argentinian restaurant that boasts a breathtakingly beautiful view of the Burj Khalifa, especially during the light show. They serve authentic Argentinian delicacies and are known for their prime cuts. The dish of the night had to be the Cabrito, which is baby goat served on beef ribs. It was cooked to perfection and is a must try for any meat lover. Asado also serves shisha and has an interesting variety of cocktails. It's the perfect option for a date night especially if you're sitting outside by the water.
Location
Click here to book your room or call +971 4 428 7888 for other queries