Errday is a good day for Gelato🍦🤤

*The below is not in ranking order
Firstly guys – there is a big difference between a gelato and ice cream. Let's get dem basics right first ?
Icecream – The ingredients in ice cream are first cooked together into a rich custard. After the custard base is cooled, it's churned at a fairly high speed to incorporate air and increase its volume (cheaper ice creams tends to have more air whipped into them). Ice cream is served at a fairly cold temperature that makes scoops hold together (something like the below picture), and the finished product is smooth, light-textured, and creamy.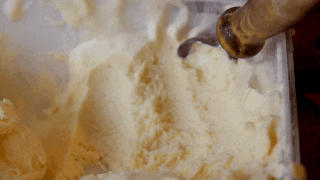 Gelato –  Italian for ice cream, starts out with a similar custard base as ice cream, but has a higher proportion of milk and a lower proportion of cream and eggs (or no eggs at all). It is churned at a much slower rate, incorporating less air and leaving the gelato denser than ice cream. Gelato is served at a slightly warmer temperature than ice cream, so its texture stays silkier and softer. Because it has a lower percentage of fat than ice cream, the main flavor ingredient really shines through (a gelato can never really be served as a scoop, it would always have a messy/stringy look who's shape can be changed)! ?
What I prefer? Gelato! ?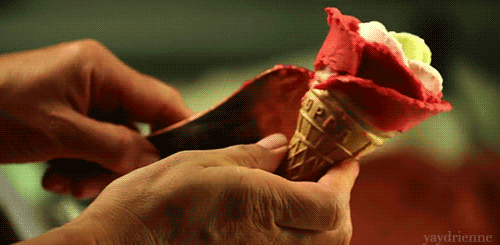 1. Dri Dri
Cost – ~AED19
Favorite Flavor – Biscoff, Vanilla and Pistachio
Cost – ~AED19
Favorite Flavor – Caramel, Coconut, Nutella and Pistachio
3. Grom Arabia
Cost – ~AED20
Favorite Flavor – Dark Chocolate Fondant and Pistachio
Cost – ~AED19
Favorite Flavor – Vanilla, Baklawa and Jellab
5. Mastihashop
Cost – ~AED14
Favorite Flavor – Rose and Saffron
6. Find salt
Cost – AED20
Favorite Flavor – Lotus
7. Venchi
Cost – ~AED19
Favorite Flavor – Pistachio
8. Icecream Lab
Cost – ~AED15
Favorite Flavor – Blue velvet, pretzel and lotus
9. Scoopi Cafe
Cost – ~AED20
Favorite Flavor – Madagascar Vanilla and Rose
10. Quattro
Cost – ~AED47
Favorite Flavor – Guacomole Icecream (called Taquitos)
11. Amorino
Cost – ~AED19
Favorite Flavor – Pistachio and Vanilla
12. Shake Shack
Cost – ~AED17
Favorite Flavor – Red Velvet
13. Cake Away
Cost – ~AED17
Favorite Flavor – Lotus Focus & Bro-reo