There's nothing as frustrating as packing your bags and heading to the airport all excited for your trip, only to find out that your flight has been delayed, canceled or overbooked 😩 But thankfully, nowadays, there are rules set in place to protect us in case of such unfortunate situations.
All popular airlines like British Airways, Air Canada, EasyJet and Flybe provide compensation, so knowing what you're entitled to is important. The EU Regulation 261/2004 entitles you to care and compensation for certain travel disruptions. If you are departing from an EU airport, or are arriving at one on an EU carrier and your flight was delayed for over three hours, you will get compensation. If your flight gets canceled and your replacement flight lands 2 hours later than your original flight, you are entitled to compensation 🕺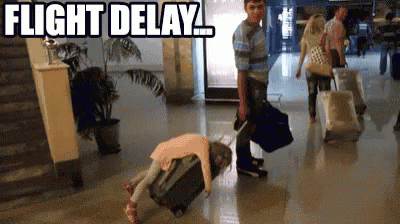 The airline has to provide you with food and drinks. This is usually in accordance with the time of the day and generally in the form of vouchers which you can redeem at restaurants nearby 🍴 Some airlines even provide food in small packages. The airline is also supposed to refund the cost of any important calls you may have to make to convey the news of the delay.
In case of an overnight delay, you'll be provided with accommodation and the transport to reach it. Alternatively, you can even ask to be refunded for transportation to your home instead 👌 In some cases, the disruption is so big that the airline is not able to individually make bookings for each person. You can make your own arrangements then and provide them with the receipts to get the refund. Make sure you don't book expensive hotels since those will only be refunded if there was no other option 😯
If the delay is over three hours, short flights will give you a cash payment of €250 and longer ones give you €400. If your flight is over 3,500km you're entitled to €300 for a delay of 3-4 hours and €600 in case of more than four hours. In case of extraordinary circumstances like civil war, security issues, calamities or extreme weather conditions, compensation is not payable 🤷‍♂️