What if I told you, eating this chocolate will make you look younger?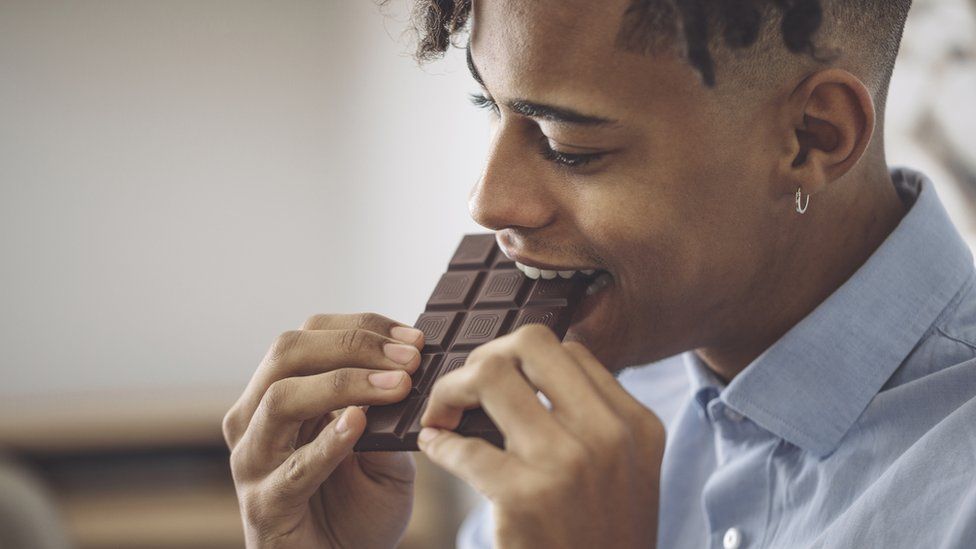 You know how it goes: You're sitting at your desk trying to get work done or on the couch watching TV, and you suddenly crave something chocolatey! ÄŸŸ « From experience, you know that if you don't satisfy these cravings, it will soon consume you and you won't be able to think about anything else until you get what you want. ÄŸŸ ¤ ¦"â™€ï ¸
Cocoa addicts would know the unique power of chocolate; be it turning a dreadful day around, putting a skip in your step, or making you feel special even on a perfectly ordinary day. In other words, chocolate IS life! Darn the rich, deep flavors of this sultry dessert ÄŸŸ ¤ ¤
Imagine if there was a chocolate that was good for you AND had the same health benefits you'd get from eating superfoods? It may seem too good to be true, but guilt-free chocolate which promises to slow down the emergence of wrinkles and sagging skin has been developed by scientists ÄŸŸ˜ ± Wouldn't you want to get your hands on these superhero chocolates ASAP?
We stumbled upon 'Esthechoc', an anti-aging chocolate and brainchild of a Cambridge Research Center in the UK. Read on, you don't want to miss out on the deets! ÄŸŸ «
These type of chocolates claims to boost antioxidant levels and increase circulation to prevent lines and keep skin looking youthful and smooth. ÄŸŸ' It isn't your ordinary dark chocolate, rather it's an award-winning chocolate scientifically proven to enhance your skin. Just a small 7.5g bar of chocolate contains the same amount of the antioxidant astaxanthin as a fillet of Alaskan salmon (500kcal), and equal levels of free-radical fighting cocoa polyphenols as 100g of dark chocolate (600kcal). ÄŸŸ ¤ ©
THE SCIENCE BEHIND the chocolate
These are infused with a powerful combination of two strong antioxidants- Epicatechins and Astaxanthin. The former is usually found naturally in dark chocolate. The latter is nature's strongest antioxidant known to science; which is 6000 times more powerful than vitamin C and 500 times more effective than vitamin E- we're already sold! ÄŸŸ˜ Moreover, the chocolate is designed to fight against the damage our skin is exposed to daily: from environmental pollution, UV rays, capillary degeneration and even poor diet. If preventative measures aren't taken, over time, these stresses lead to a breakdown of collagen in your skin, a lack of elasticity and firmness, poor skin hydration, cellulite and slow skin cell turnover. ÄŸŸ˜ ¨
However, it may not make a significant difference in the skin of someone with a lot of acne scars or sagging skin. It could be necessary to seek professional assistance in such cases. This is why when such people visit dermatologists, they usually recommend skin treatments such as microneedling in Denver (and several other places) to stimulate the production of new collagen and skin tissue, resulting in smoother, firmer, and more toned skin. Microneedling is most commonly used on the face to treat scars, wrinkles, and large pores. The procedure's goal is to kickstart your body's healing process by sending collagen and elastin to repair minor injuries. Collagen is believed to fill in and smoothen wrinkles.
Luckily for us, such things act like a shield against the effects of environmental aging, supporting skin nutrition, maintaining healthy oxygen levels, detoxing, firming, and protecting the skin. According to experts, one small bar a day consisting of only 38 kcal (yes, you read that correctly!) can improve your skin in just three weeks by boosting skin microcirculation and improving oxygen transport in plasma to ultimately enhance the quality of your skin. ÄŸŸ ¤ © According to Beauty Chocolate Creator, Dr Ivan Petyaev, he says that it works by delivering these high-power molecules to your blood so that they reach the skin and underlying tissues simultaneously. Once there, they improve the physiology of the skin. Simply put, it delivers the benefit from within. ÄŸŸ˜ ¯
Do bear in mind that this chocolate is an additional measure to prevent skin aging, but it shouldn't take the place of a healthy lifestyle and diet rich in fresh fish ÄŸŸŸ, fruits ÄŸŸ and leafy greens ÄŸŸ ¥-, along with proper sun protective behaviour. These bars are vegan, diabetic-friendly and suitable for all skin types. This powerful technology is enclosed in a little delicious dark chocolate square for a low-calorie skin-loving goodie, the embodiment of a delicious treat with a purpose. ÄŸŸ «ÄŸŸ'…
You can get your hands on such chocolates by ordering online at primemarkme.com. ÄŸŸ ¤'
So next time those pesky chocolate cravings kick in, why resist them? We know what we'll be nibbling on. ÄŸŸ˜‰ What do you think? Would you be tempted to try this chocolate? Let us know in the comments section below.
---
Written and Researched by Angela D'Costa