Remember when you would run to the grocery with your one Dirham coins to get your hands on the snacks that ruled our childhood? Chips Oman, Pofaki, Laban Up – I'm salivating while I type this out. 🤤 Those sugary, salty treats are still a lot of our favourites and one bite invokes such a strong sense of nostalgia!
Imagine my delight when I discovered that many restaurants in Dubai have incorporated these snacks on their menu. Here's a roundup of some of the most creative dishes I found 👌: 
1. Chips Oman – Cheesy Chips Oman Maki Rolls from Moshi [AED 29]
This crispy goodness is without a doubt, one of the best bags of crisps in the region. Can you believe this is still only 50 fils?!? 😱 Combine it with cream cheese and roll it up in a bread/paratha and it will blow your mind away. Moshi serves this snack with its own little twist – a fusion of Cream Cheese and Chips Oman wrapped up like a Sushi. One of the most genius recreations I have ever tasted. 😍
2. Vimto – Vimto Frappe from Logma [AED 32] 
No Iftar feast is complete without this drink. 🍷 Vimto has been a favourite for years with its refreshing berry flavour. Pair it with a Manoushe and you've got an Arabian feast done right! Logma serves Vimto Frappe on their cooler drinks menu and it is a must-try! 🤤
Logma even has some tempting Oman Chips Samosas with cream cheese you must try,
3. Areej – Toot Areej from Freez [AED 10]
Areej has been a cult favourite when it comes to packed juices and it's iconic even in 2k18. It tastes just like the fruit and almost convinces you that it's fresh! 🤭 Do try out the Toot Areej on your next trip to Freez, it's delicious! They even have a slushie of the orange flavoured Areej. 🍊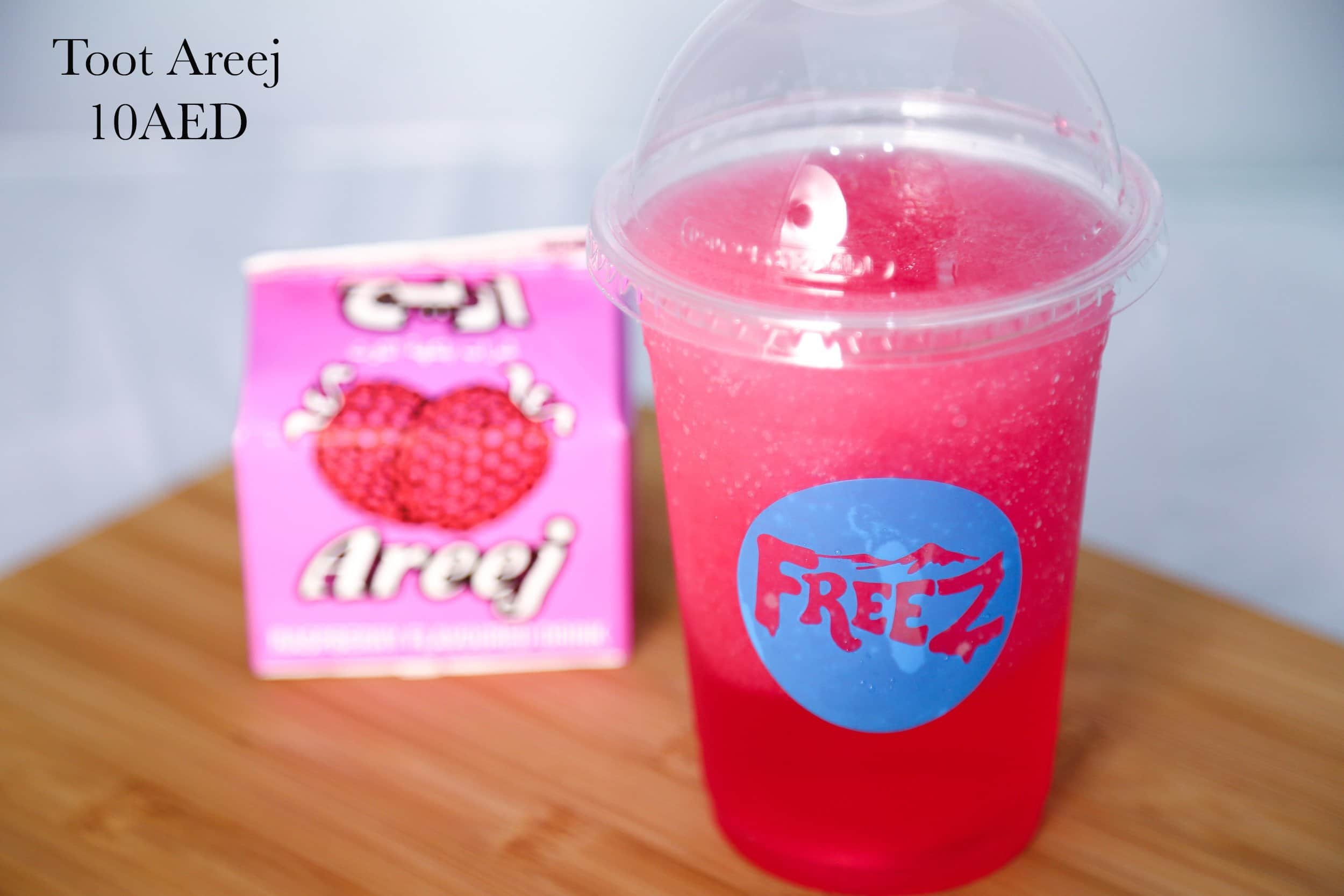 4. Kraft Cheese – Kraft Cheese Fateer from Zaroob [AED 32]
This is, was, and will always be a household favourite. The goodness of cheese can never go wrong and adding this to your dishes is ultimate happiness. 😻 There are some great dishes made with Kraft and the Kraft Cheese Fateer at Zaroob is one of the best! They even have Kraft Cheese and Honey Fateer for AED 38, if you prefer something slightly sweeter. 😋
Want some oman chips instead on a thinner crepe? Check out "Labeeb Grocery" on Jumeirah road. They have some of the best Oman chips crepe, with egg and cheese!
5. Laban Up – Laban with Oman Chips from Freez [AED 15]
God bless the soul who made this incredible drink – Dubai summers ☀ need Laban Up, always! In fact, a lot of us still religiously drink this even today. Freez came up with another incredible implementation with their Laban with Oman Chips. You'd never think these two things go together so well! They even have a Cheetos version, if that's more your taste. 🤤

6. Milk Tea Softie [AED 19] from Mealtop Bingsoo Cafe
Nothing relaxes you like some Karak Chai in the evening. ☕ Cafeterias serving some nice Karak Chai made with Rainbow Milk have always had a special place in the hearts of its customers. Imagine Karak in your dessert? Heaven. A place that has nailed the Karak Chai dessert implementation is Mealtop Bingsoo Cafe. All of their main ingredients are imported from Korea, and they make the ice cream cone themselves! 😱 This ice cream was absolutely delicious and tastes EXACTLY like Karak Chai. 🤤
7. Milo Drink – Lush Chocolate Milo from Chateau Blanc [AED 170]
Move over Horlicks, Milo was THE drink back in the day. It was one of the best homemade chocolate drinks 🍫 that our moms would make in the evening while we watched Cartoon Network. The chocolatey, malt taste is still a sweet memory and Chateau Blanc has done an incredible job of incorporating that taste into their Lush Chocolate Milo Cake. 🎂
8. Big Babol – Charcoal Bubblegum Ice Cream from Pappa Roti
Blowing up one of these and sneaking them into school was what the cool kids did back then. 😎 The cherry on the top was the occasional freebie that came with the gum pack – mostly a temporary tattoo of our favourite action hero. Pappa Roti delighted 90s kids all around when they introduced their new Charcoal Bubblegum Ice cream – which is half Big Babool flavour! 🍦
9. Dates – Espresso Date Frappé from Cafe Bateel [AED 25]
Dates are one of the most Emirati things out there! 🤩 Every NRI knows that you cannot go back home without a pack of dates for your relatives. There are several variants of this fruit available these days – with nuts, chocolates, etc. but nothing is quite as refreshing as the Espresso Date Frappé from Cafe Bateel. It is thick, sweet and unbelievably delicious – you'll find yourself coming back for more! 😻
---
Written and Researched by Sweta Swaminathan