INKED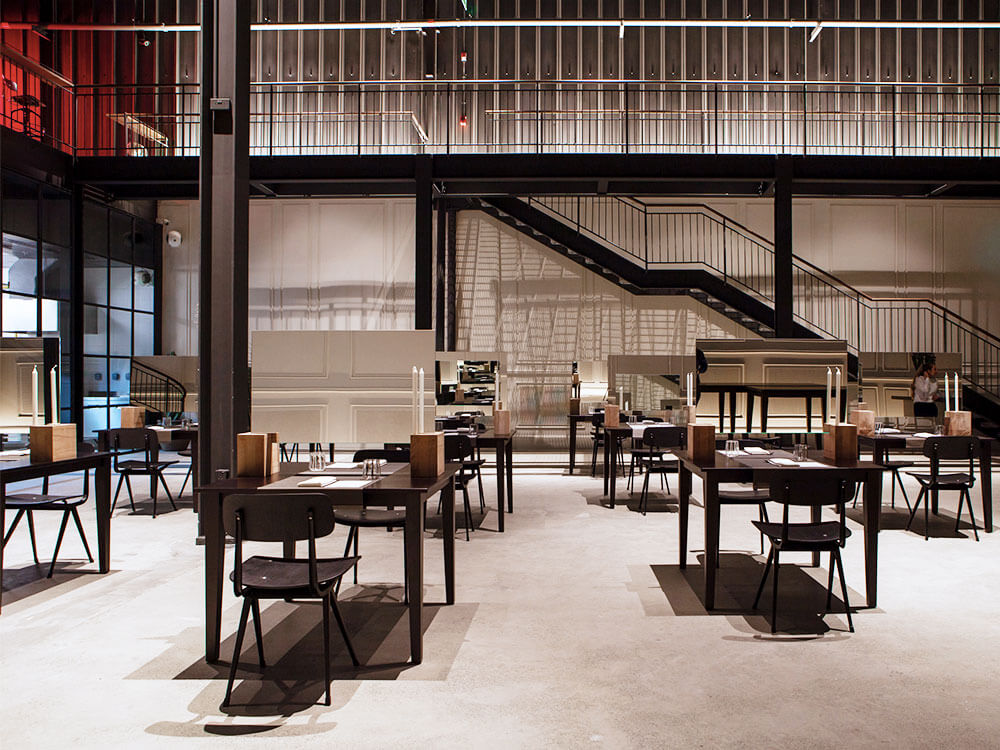 "THIS IS NOT A RESTAURANT"
About INKED
INKED is a collective of like-minded individuals, bringing their distinct talent to form an all-encompassing culinary memory maker. Housed in Alserkal Avenue, Dubai's creative hub, INKED brought its soul into a hearty space. INKED is a creative space with a heart that beats strongly for food. Conceptual dinners, guest-chefs pop-ups, inventive cooking workshops and tastings, talks, photo-shoots, brand activations, private events and creative collaborations are among endless possibilities hosted in the repurposed warehouse premises in Dubai's Alserkal Avenue, with fully-equipped kitchens and versatile seating space. Though INKED has many facets, they are all intrinsically linked by a common desire to create an engaging, food-led and memorable moment. Here, every experience is as indelible as ink.
Kenza and Patrick Jarjour, the creative collaborators behind the mastermind that is INKED, welcome you to a world of conceptual surprises and artistic delights through a sequence of dinners hosted at Dubai's most offbeat location. Having delivered ingenious and culturally rich concepts such as Jacob's Food Diaries, and Tawlet Souq el Tayeb, the INKED team is ready to invite you into their mind's home for an evening of your favourite creations, exposed in a whole new way.
About the series – "This is not a restaurant"
As part of the first of many dinner series, 'THIS IS NOT A RESTAURANT' is a playful spin on Dubai's vibrant dining culture. Borrowing staples from the city's favourite dining menus, INKED will change the arrangement of well- loved numbers, into clever new compositions. 'THIS IS NOT A RESTAURANT' is the revelation of the more artistic and whimsical side of food.
I reached INKED at around 8:10PM, had I know the doors *literally* only open exactly at 8:30PM only, I'd come a bit later 😆 At 8:30PM, I, along with a couple of other diners entered INKED and we were puzzled! Firstly, there were no chairs and secondly, we got no "hi's" and "welcome's" as guess what? No one speaks :-O Smartly enough, half an hour was actually kept for all of us to grab a drink by the bar and explore the place (such as the open kitchen and storey above).
Around 9:00PM, several attendants brought chairs to the tables that were already beautifully arranged.
At INKED you follow rules;
I already started getting curious in INKED from the moment I stepped in but I got super excited and interested with the brand when the cutlery was served (literally in a steel basin). A few things that sparked curiosity was the torch, shovel and a pair of gloves ????
Dish 1 – We knew what are set menu comprised off as that's one of the first things you see upon entering the venue. Our first dish was the "Burrata with Tomatoes". Needless to say we were expecting a ball of cheese with neatly sliced cherry tomatoes on the side, but what we got was pretty unreal. Never had I seen or tasted a "Burrata Icecream" on a cone stuffed with tomatoes…
Dish 2 – After finishing the first dish, the diners and myself were wondering what the next dish – the "Truffle Pizza" would look like. Without further ado our so-called Pizza came in a tall glass in the form of a smoothie. It was shocking how something that looks as odd as this could taste so good! With a dash of truffle in that smoothie, this dish was delicious and genius! ❤️
Dish 3 – The excitement only increases at INKED (believe me). We knew were next getting a "Miso Sea Bass" but again wondered, how? The 'how' was answered when the lights turned off! To see each other (or the dish when it arrived) we had to use the torch provided to us in the beginning!
I have personally never liked Sea Bass, but this, I did!
Dish 4 – DESSERT!! Was CHOCOLATE FONDANT! Little did we know, that the 'plant' table tops on top of our tables was ACTUALLY our dessert ???? The last time I thought I'd eat soil was… never
This deconstructed Chocolate Fondant was super rich and tasty. It's a pity I can never have this again, as this my friends, "Is not a restaurant" ????
Next Series – "The Nights Before"
Whether you feel it in the frosty mist or in the desert haze, the holiday spirit is in the air! It doesn't matter if you've been naughty or nice, you don't have to be in Santa's good books to dine at INKED 😉
Cost – "The Nights Before" will run from December 18th – 21st, with dinners hosted every evening at 8:30PM. The experience is priced at AED 375 per person and includes a 4-course dinner and festive soft drinks.
Click here for more information.
Other Information
Hashtags and social media – #thisisinked #inkeddubai @inkeddubai
Reservations – +971- 50 845 1359 or email [email protected]
Location