Gone are the days when a "cookie" meant the butter cookies you have with tea. Stuffed, topped, skillet-fried, filled, chewy…they're as over-the-top as any other dessert now!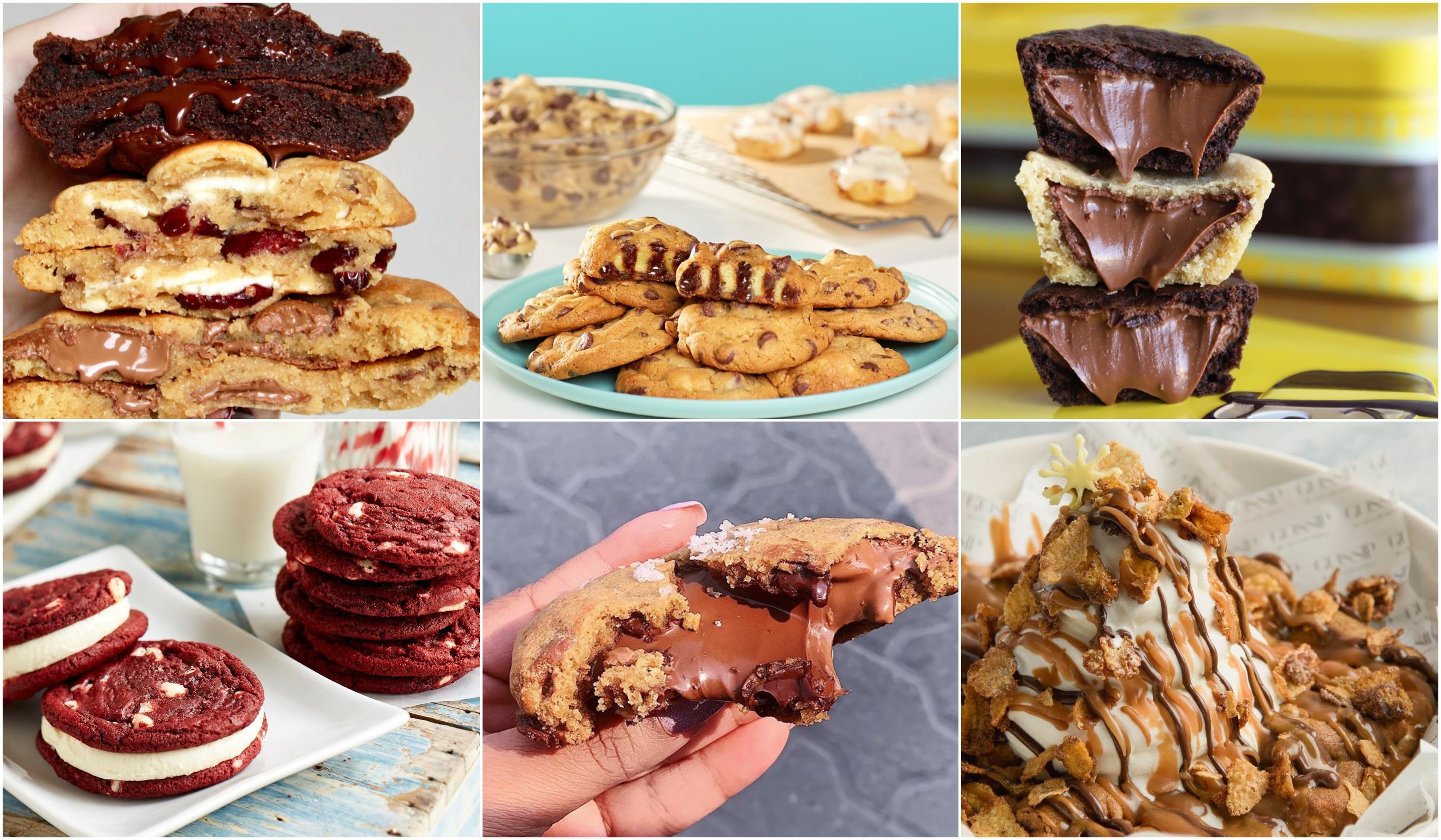 Coming a long way from their humble beginnings, here are 25 of Dubai's best cookies (not in ranking order) 🍪 PS: Guys, I love my cookies, but I like them a bit soft/chewy, I'm not a fan of hard crisp cookies, those are just biscuits lol 😆 Thus, needless to say, the below aren't the latter! (Disclaimer: Prices of the cookies may change!)
10 STUFFED COOKIES:
1. Nutella sea salt cookie [AED 11] from Butter Dessert Salon
LOOK. AT. THAT. OOZE 😭😭 This sinful goodness will leave you with complete satisfaction and an incredible sugar high!
2. Nutella sea salt cookie [AED 11] from Home Bakery
You can't really see it here cuz its umm… stuffed.. But this soft and crumbly cookie is filled with Nutella goodness! 😭 There isn't as much Nutella as the next cookie in the list, but if you want a perfect amount, this is it!
3. Salted chocolate chunk cookies [AED 65 for 6] from Melange
You've probably seen pictures of Nadia's stunning cakes (which can only be described as pieces of art) on Instagram, but did you know she makes some of the most delicious cookies too? You can find them at 20 Grams Speciality Coffee, Typica and Drowsy Cafe in Sharjah, and online too from November 1st onwards! 😍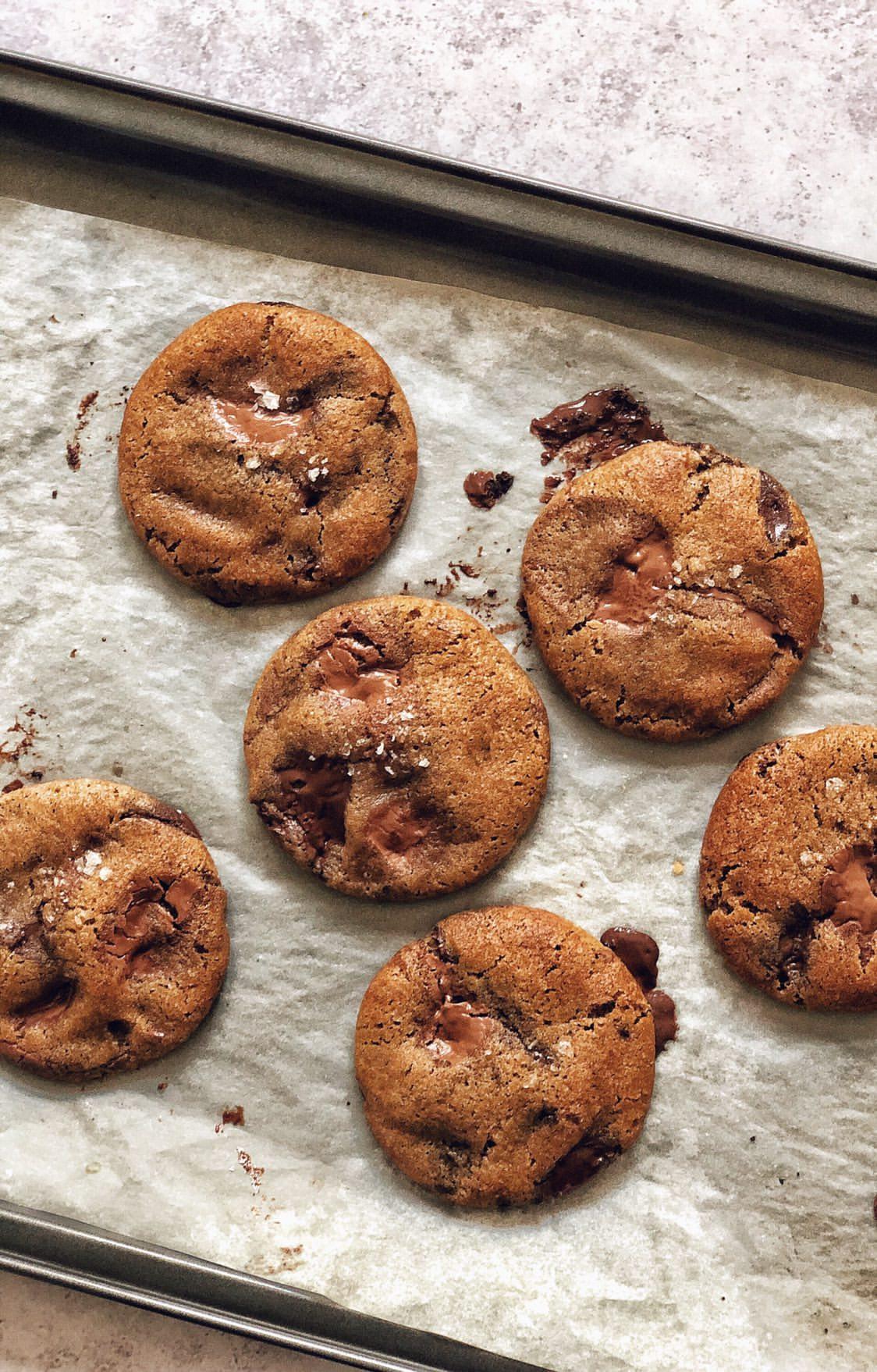 4. Nutella and peanut butter bites [AED 79.75 for 15] from Monkey Cookies
These guys need no introduction! Their cookie bites explode with flavour and are most probably one of the UAE's most loved cookies. Be warned though, it is humanly impossible to stop at one 🙊 PS: Always ask for a fresh batch, cuz sometimes the fillings are all dried up, when it's fresh, it's perfect!
5. Double chocolate cookie [AED 12] from Ben's cookies
Fun fact: If you eat your cookies really fast, your Fitbit thinks you're running 🤭 Very few things in life are better than giant soft cookies stuffed with chocolate chips and chocolate oozing out, right? Absolutely worth the calories!
These bad boys are similar to Monkey cookies, but have a much larger variety of fillings! Red velvet, dates and saffron, kinder, pistachio, Lotus, chocolate truffle… I'm drooling 😭
7. Nutella sea salt cookies [AED 11] from Joga
A balanced diet is a cookie in each hand. I read that from Joga's Instagram, and I completely agree.
8. Red velvet oreo secret [AED 16] from Sugarmoo
Not only are these cookies MASSIVE, but they're also stuffed with an Oreo! A cookie within a cookie… What a time to be alive! 😭🍪
9. Pecan Chocolate Caramel [AED10] from Pistachoux
Just look at that ooze 🥰 One of the best cookies I've had for sure! My faves are: Nutella sea salt, Reese's, peanut butter, and triple chocolate ✨
10. Nutella sea salt cookies from ButterBliss
A flavourful cookie that's as soft as a cloud with slightly crisp edges, soft chewy interior, bursting with a gooey Nutella center topped with sea salt flakes. Need I say more? 🤤🤤🤤
A burst of lotus in a cookie! These goodies are the perfect treat for any Lotus lover! They also offer a large variety of other cookies, like Chai spiced white chocolate, Dark caramel Dulcey, Milk chocolate s'mores, and more!
2 CHEWY MELTS:
1. Chewy melts [AED 9 per regular piece/AED 53 for 25 mini chewy melts] from Home Bakery
These babies are incredibly chewy and will literally melt in your mouth. What more could anyone want? Tip from Naomi: Get the normal-sized cookie, because there is more of a 'center' you can indulge in!
2. Brownie Dimes [AED 2 per piece/AED 20 for 15] from London Dairy
If you only knew London Dairy for their ice cream, you have been missing out! Their chewy melts are SO GOOD, and ridiculously sinful. Just thinking of them makes we want to run out and get a box 🥺 (oh they also have some of the best cheesecakes in town)!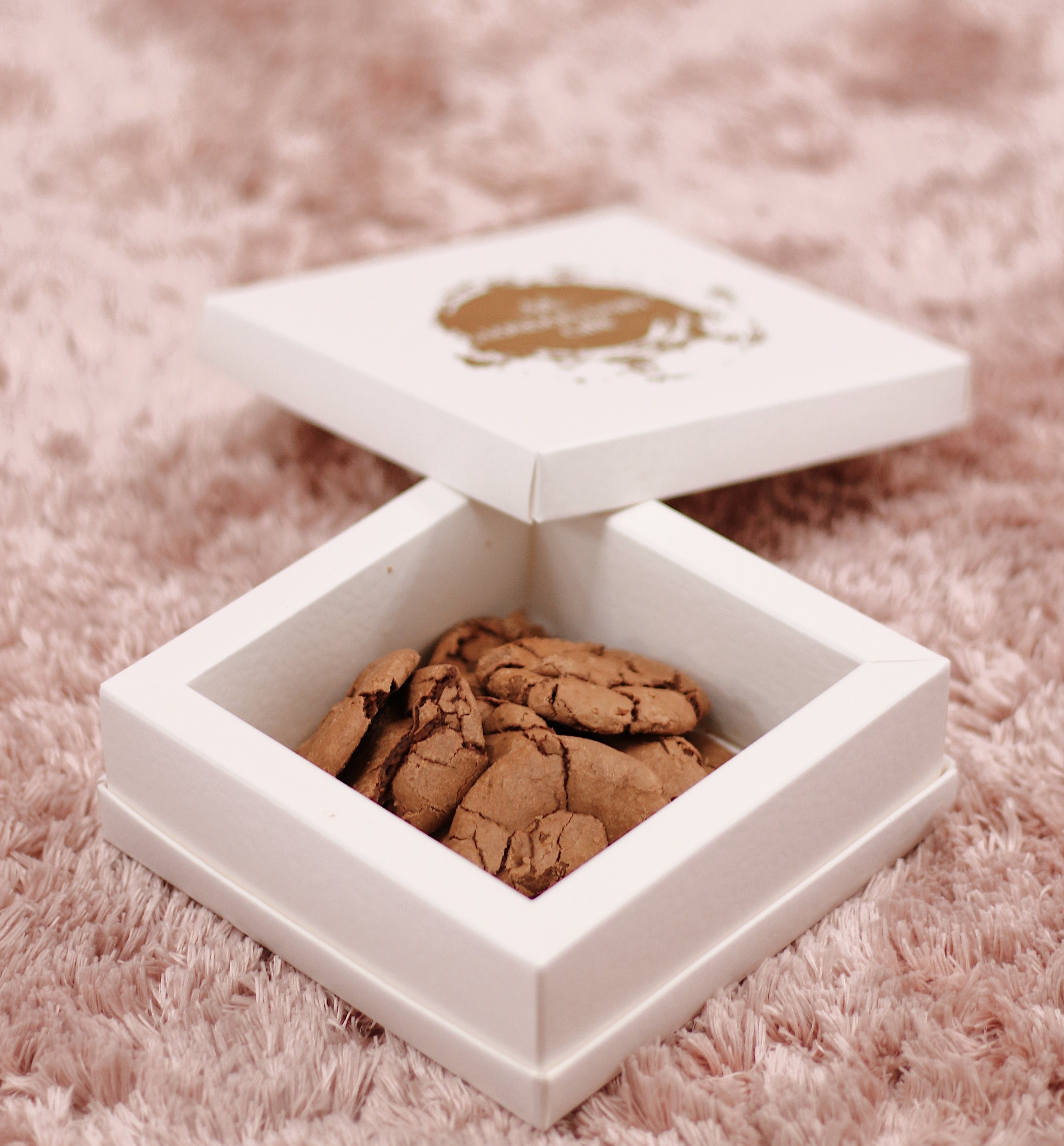 5 SKILLET COOKIES:
1. Skillet chocolate chip cookie [AED 39] from Chili's
Though Chili's is most widely known for the molten chocolate lava cake, their skillet chocolate chip cookie is also a strong contender! I love how soft this cookie is, and how generous they are with the chocolate chips 😉
Aside from having stunning, instagrammable interiors, GOSSIP also has one of the best skillet cookies in town! This everything mess cookie is served with cereal, ice cream, Lotus and caramel sauce 🤤
The bigger the cookie, the better right? This big daddy clawsome cookie is served in a warm skillet with 3 scoops of creamy vanilla ice cream and hits the spot every time 🤤
4. Speculoos cookie in a pan and Brownies in cookies pan [AED 42] from Dip n Dip
Just when you thought Dip n Dip couldn't get any better, they come out with skillet cookies topped with Lotus and brownies! UNREALLLL 😭😭😭
5. Cookie Blondie Skillet [AED 41] from Blaze Burgers
The only issue with having a delicious skillet like this at this place is, you may never end up getting there cuz the burgers themselves are DELICIOUS (arguably some of the best in Dubai). You have a choice of topping this chocolate, then icecream, on top of an already warm cookie skillet! 😭
7 CHOCOLATE CHUNK / CHOCOLATE CHIP:
1. Cookie bon bites [AED 7] from Cinnabon
My world literally stopped spinning when I heard about this. Combining 2 of the best treats – a Cinnabon and a cookie in one? GENIUS! I haven't had the chance to try this myself yet, but did hear raving reviews from quite a few people 🍪
THIS is what classic authentic cookies taste like. The best part is, they not only have regular-sized cookies, but you can also get COOKIE CAKES 😭😭 I actually bought this for Jade's (my sister) birthday, with text on it (you can always request, check their Instagram for options)!! It was amazing, and it will also leave your guests impressed with your choice.
3. Chocolate chip cookie [AED5] from Subway
You know when's the perfect time to have a Subway cookie? When you've just eaten from Subway, and are feeling super proud of yourself for eating healthy instead of fast food junk. That's when you should have a Subway cookie. Reward yourself! 😉
4. Brownie cookie [AED12] from Starbucks
One of my favourite things is when people take two exceptional desserts, and combine them into one 🥺🥺 Case in point, Starbucks' magnificent brownie cookie!
5. Chocolate chip cookie [AED5] from Hardees
Hardees is never a place I would've thought to go to for my cookie fix. I stumbled upon it by mistake, when it came as part of a meal and there's been no turning back since 😍
6. Original chocolate chunk cookie [AED 40 for 6] from Camel Cookies
I could write poetic sentences about how beautiful these cookies are, or I could save myself the time and let you see the size of the chocolate chunks in the picture below. And what am I planning on doing with the saved time? Going to grab myself a few of these beauties of course! 😍
7. Giant chocolate chunk cookie [AED 60 for 4 pieces] from Oh Sweet 
The melting chocolate, the soft cookie, and the subtle walnut crunch.. Need I say more? 🤤 I'm not usually a fan of nutty cookies, but this thicccc little cookie was super-indulgent and hands down, one of the best I've ever had. Sigh, I miss it already. 😔🍪
Do you think we're missing out on any of your favorites? Let us know!