TRESIND, a combination of the French word 'tres' meaning 'very' and 'ind', short for 'India' is true to its name.
TRESIND is one of the Indian restaurants in Dubai that dares itself to experiment with Indian cuisine. They creatively marry ordinary looking Indian food with live the presentation to make all the guests everyones eyebrows raise and jaw drop :-). It is located at Nassima Royal Hotel, Sheikh Zayed Road on the 2nd floor.
The popular executive chef Himanshu Saini along side Bhupender Nath strive to combine molecular gastronomy with cliche indian staple food and create the most extravagant fusion with A+ presentation, textures and flavors in one plate. Tresind has recently won the Zomato award for the 'Highest rated restaurant in Dubai', the 'Masala! award for the best fine dining restaurant' in Dubai and the 'TimeOut award for Highly Commended Indian Restaurant.'
I recently got invited to try their new summer menu which is priced at AED350 for the 'Chefs Tasting Vegetarian Menu' and AED365 for the 'Chefs Tasting Non-vegetarian Menu'. Below are the dishes I liked and dishes you could skip. Please note my tasting had a variety and I did not try every dish from both the set menus or the entire a la carte menu
What drinks I liked?
1. Lava Blue Lamp [AED75 – sufficient for 3-4 people] – It is a whole concoction of various berries and fizz. It is served fuming with liquid nitrogen in a very tall glass. If you're tall enough sip it directly or have it served in a champagne glass 😉
2. Beer Rinha [AED75 – sufficient for 2 people] – A unique sorbet of fruit beer (barbican) with a flavored base made with liquid nitrogen. The favor I chose was strawberry.
What dishes N ate and liked?
1. Chaat Trolley [AED180 with tax – enough for 4] – You can't go to TRESIND and not have this extravagant chaat trolley. It is a classic chaat done the gastronomical way right in front of you bursting with color, flavor and fumes The attendant starts with crushing dried spinach and adding sauces like liquid chaat masala, mint chutney, etc and then adds #Dhokla that was frozen by liquid nitrogen at the side ❄☃
The chaat is then finished with Indian spices and a Japanese Togarashi spice.
2. Deconstructed Pani Puri [complementary] – *Picture in slider above* TRESIND has now started doing a live demonstration of how this dish is done. It tastes EXACTLY like Pani Puri and has the crisp + the tangy n sweet flavor. Definitely is addicting, I wish I could have an endless supply of these 🙂
3. Sea Bass [AED200 – sufficient for 2 people] – One of the best fish I've had. It was succulent, had enough spice and was bursting with Indian flavors!
4. Hunters Lamb Leg [AED200+ – enough for 2] – It is a tad bit expensive but I loved this dish! Not being a fan of lamb this was absolutely lip smacking.
5. Mushroom Tea – *Picture in slider above* More like a soup served in a small cup. It is filling so don't be deceived by the quantity. This soup is a fantastic combination of truffle, mushroom and pepper! Perfect spice and flavor.
6. Chicken Cafreal [AED120] – *Picture in slider above* This dish was a burst of spice in my mouth. It is relatively spicy and I LOVE that :-O the flavor, the spice and the presentation – whats not to love ?!?!
7. Deconstructed Black Forest Cake [AED150 – sufficient for 4] – They first freeze the whipped cream at -178'C for it to solidify and then put various ingredients on it such as; flakes, sponge cakes and Dodha Barfi  They even pour (a lot) of caramel sauce and chocolate fudge!!!!
Apologies for the bad clarity, I was in a cozy dim-lit section, a clearer picture of the final product will be posted soon!
8. Daulat ki chaat [AED100+ – sufficient for 3] – Made with condensed milk foam, sprinkled with pistachio and 24k Gold Powder! It is even accompanied with my favorite – Sohan Papdi !
What you can skip? (these dishes were delicious too but I would opt for the above – especially if you have a tight budget)
1. Chole Bhature
2. Shredded baklava, orange blossom honey, pistachio soft serve *picture in slider above* – Although the marriage of flavors is phenomenal, according to me it is something you can skip over the other desserts.
3. Chicken Tikka Carpaccio Salad and Veg Salad with bombay kachumber cream, olive crumble and lettuce – *Picture in slider above* The presentation of both the dishes in fantastic but it was ordinary salad. If you are on a diet, maybe this is something you could order.
Conclusion;
The paan flavored complementary candy floss is A-M-A-Z-I-N-G! The presentation? A-M-A-Z-I-N-G! Uniqueness? A-M-A-Z-I-N-G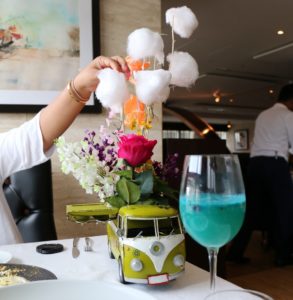 Cons of dining at TRESIND
1. Service can be slow if TRESIND is a full-house
2. It is expensive
Offers at Tresind
1. 4 course Lunch Set Menu starting AED145+ on weekdays, 12-3:30pm
2. Ladies Night, every Wednesday, 8-11 pm, at Tresind Lounge. 3 free drinks and 15% discount on bar snacks for all ladies
3. Happy Hours 6:30-8pm, every day at Tresind Lounge
4. 6 course, Ladies who Lunch menu, at 120++ for large groups of 5. ladies, from Sunday-Wednesday.
6. 9 course, signature Chef's Tasting Menu- AED350+ (veg), AED365+ non veg, for lunch and dinner, everyday
Fact File
1. Cost for two- AED500 (excluding alcohol)
2. Best known for
Dishes- Wild Mushroom Chai
Hunter's Lamb leg 'raan'
Modernist chaat trolley
Drinks- Lava Lamp, Will You Marry Me, Edison 2015
Desserts- Deconstructed black forest cake, daulat ki chaat
3. Alcohol available
4. Lounge seating and smoking area available
5. Valet available
For reservations, call 043080440 or 0564209754