Farzi Cafe – The one Indian Restaurant that offers the most perfect blend of Molecular Gastronomy and Indian food using modern culinary techniques and presentation styles ♥
To sum it up – Farzi takes one comfort food at a time from around the world and adds their own ingredients + fuses them with Indian cooking styles and flavors to create a whole unique concoction essentially fusing two worlds together.
You think you're going to get your drinks and food in ordinary glasses and plates? Nope, think Again.. They have an array of molecular drinks (few of them have fumes 😉 ) and several dishes with FOAM (heard of Chili or Chutney foam? me neither… PS: they have 1% of the calories 😆 ) Even the SIMPLEST dish at Farzi will be heightened 80-100% and make you go OOoooOOoooOOOOoooOOoo! 😮
Farzi Cafe is a fine casual dining place bustling with energy. You could come here for a date, a business meeting or to even celebrate a special occassion with your fam n friends! Believe me, Indian food isn't that pretty but this place would make any camera smile with joy 😉 😀
Did you know? The main inventors of 'Indian Molecular Gastronomy' were Jiggs & Zorawar Kalra. It was first showcased in their Indian Restaurant 'Masala Library' and then 'Farzi Cafe India'; AND NOW they've opened their doors in Dubaiiiiii!!!! *WOHOOOOO* 😀
Yea…now the FARZI-EDIBLES 😉
Summary in Red; since you're too busy always.. I know.. 😈 
The prices were not given to us. But it is approximately between AED80-130 per person 😀
DRINKS
1. Ananas Orbits (all pina colada loverz in da house – must have) – Majestic Concoction of Tender Coconut, Pineapple and Pina Colada Caviars that burst in your mouth. Served in a Glass Aladdin Gennie glass (kinda) and you drink straight from the nozzle 😯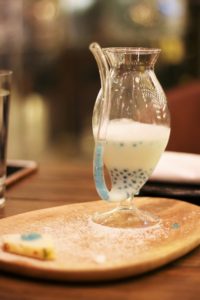 2. #Farzi Sangria (ordinary but good)  – A classic ordinary fizz consisting on diced fruits and velvet grapes.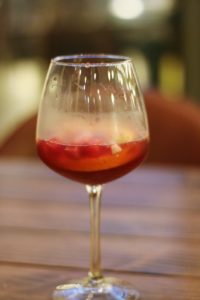 3. Irish Haze (aesthetically pleasing, fantastic aroma, above average taste) – Mixture of Vanilla, Coffee & Hazelnut. Fantastically presented and tasted like hazelnut flavored coffee.
4. Flutter Nutter (Chocolate & Peanut butter loverz must have) – An ordinary thick milkshake constituting of peanut butter and chocolate. Thick in composition and fantastic in taste!
5. Carribbean Shaker (very simple drink, amazing presentation, refreshing taste – more like a Mojito?)  – Influenced by Coconut puree, lime, freshly pounded strawberries and a lot of passion 😉 It is presented in a Classical French way in a French press!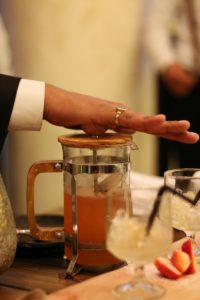 FOOD
1. Dal Chawal Arancini (PLEASE must haveeee) – It's basically your regular Lentils, Rice, Chutney (with a bit of pickle) and papad in the form of a Pakoda (croquette-ish). I never expected Daal Chaawal to taste this magnificent!!!! Fantastic :-O
2. Masala Cottage Cheese Scramble, Parmesan & Black Pepper Tart – Just an ordinary amuse-bouche that tastes good, is presented well but not necessarily a 'must-have'
3. Pan Seared Scallops, Peanutbutter Glaze, Nutcracker Kachumbar – I am generally not a fan of scallops due to it's excessive fishy taste and texture! However Lavina from EZRANI tried this and we concluded it's still not something we'd prefer 😆
4. Shittake/Mushroom Sliders (fan of sliders? this is for you!!) – Mushroom patty with the softest bun and truffle mayo. This is a match made in heaven and I'm currently missing it 😥
5. Tempura Fried Prawns (indian version of battered shrimps, fan of it? order this!) – Definitely an Indian Version of the popular Dynamite Shrimps with Farzi's own Indian Twist 😉 What's oh-so-great about this dish? It is topped with CHILLI FOAM :-O I honestly didn't expect FOAM to make me go ssssssss 😆
6. Deconstructed Sheperds Pie (I'd rate this 7/10 as I'm not a huge fan of Beef) – Potatoes + Seared Wagyu. Farzi's version of a deconstructed pie, seared beef chunks and mashed potatoes BEAUTIFULLY served in a moon shaped plate 🙂
7. Devilled Quailed Eggs (phenomenal presentation + amazing flavor!) – Mixture of Ragout, Zaatar Labneh Spheres, Golden Fried Quail Eggs and Indian Spiced Chicken Mince MMMMMM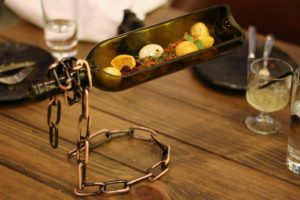 8. Tangy Chaat Puff, Crispy Okra Salad, Chutney Foam (AMAZING) – Technically a Kachori, if you love chaat and kachori why not order this for your starters?!?! It's got an amazing filling topped with Chutney FOAM! Yes, it ACTUALLY tastes exactlyyyy like Chutney 😎 PS: I got addicted to dem crispy okras!!
9. Burmese Khao-suey (if you want to take your tastebuds on adventure and get a combo of Thai and Indian cuisine in one platter, get this 😉 ) – Thai-sh dish consisting of coconut milk, curried meat + spices and accompanied with a variety of condiments (such as sev and spiced toasted nuts)
10. Sweet Labneh Spheres with Berry Compote (crazy brilliant!!) – you take it as a shot and it'll burst in your mouth!! Absolutely AMAZING!! Fantastic presentation too.
DESSERT – YAYAYAY MY FAVOURITE
Rasmali Tres Leches (I LOVED THIS) –  It comes with Carrot Cream and a bbeaaautifulllll Rose Petal Net!! Having the soft and DELICIOUS rasmalai that's burstinggg with flavor + that crisp caramelized rose petal net = wowwwww :-O #DroolingOverMyKeyboard…