Forget Love, you'd rather fall in Chocolate 😉
Alison Nelson – a native New Yorker and creator of the incredible Chocolate Bar! Rewinding a bit to the history – Alison sipped her first cup of coffee with her dad when she was 8 and paid for her college fees using tips from customers while waiting on tables at top-notch cafes. With all the efforts and hard-work she built her very own Heaven for herself and chocolate addicts all over the world (including me *duh*) 🙂 In 2004 she was named one of Gourmet News  influential "20 Under 40" & in 2007 she received the Inc. Magazine's award for one of the "Fastest Growing Private Company's in America". CHOCOLATE BAR was even selected as "one of the Five Best Chocolate stores in New York" by About.com in 2015. That's not it, Alison Nelson has won several more awards, click here to see them.
On 23/02/2016 I got the chance to speak to this amazing woman! I finally found someone who shares the same chocolate passion as I do!! She told me they're definitely looking at opening more branches all over Middle East. So if it's not in your country yet, it may be opening very soon 😉 FUN FACT: Chocolate Bar currently has 11 branches in Dubai and you know what? Apparently, they receive the #1 BEST CHOCOLATE IN THE WORLD (Specially curated for them from Belgium) to make their delicacies!! HOLY COW :-O
Time to get to the Food (OR shall I say Dessert?!)…..N's Review;
1. Chocolate Fondue [AED61] – This chocolate fondue is accompanied with strawberries, bananas and brownie slabs! The dark chocolate fondue to be specific is rich in taste and delicious but the brownies on the other hand were a bit too dry for my liking. This fondue is definitely perfect for people who don't have a great sweet tooth 😀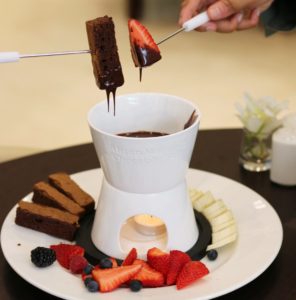 2. Chocolate Truffle Cake [AED48] – The Molten Chocolate Cake is more or less like a deconstructed chocolate fondue and it is one of the best I've had. It has even been added in my list of Favourite Chocolate Fondants in Dubai. It's served warm, is very thick in composition and rich in flavor. The chocolate is overpowering and I LOVE that! 😉 Inspite of the sponge being semi-stiff, this dessert WILL MELT in your mouth!! Moreover guys, you have an option of choosing dark or milk chocolate – I'd say go for Milk 😀 . According to me this dessert can be shared between 2 people.
3. Melted Nutella Cake [AED44] – Nutella Lovers; this is SERIOUSLY FOR YOU. It is exactly like the Truffle Cake but the chocolate is replaced with Nutella. If I had to choose between this and the Truffle Cake, I'd go for this. Cuz why not? It's got NUTELLA!! 

This dessert can be eaten by one Naomi or two normal human beings 😳
4. Cookie & Brownie Cake with Icecream [AED44] – The quantity is a wee bit less for the price you pay and what is delivered. Tastewise – the whole dessert would taste much better if the brownie was more fudgy or had extra moisture. It is not a unique dessert as it just constitutes of a Brownie, oreo halves and vanilla icecream.
5. The Big Dig [AED46] – Keep aside your old cereal bowls and indulge in THIS! 😮 The Big Dig is a big bowl FILLED with Chocolate & Vanilla Icecream + pound cake chunks + crushed chocolate chip and cookie pieces + marshmallows + chopped nuts and tons of chocolate fudge and hot caramel sauce. It probably has about 500 calories but is worth it. The warm and thick sauces smeared onto all those sweet treats is seriously a chocolate lovers dream bowl 😯 . On the other hand; this ain't too sweet folks!
6. Classic Molten Chocolate Cake [AED51] – This was a hit and miss. A few cakes were molten at the centre and a few weren't. The ones that were molten were great but ordinary. If I were to choose; I'd go for the Nutella or Truffle Cake anyday! 🙂
7. Penne Shrimp Broccoli Pasta [AED58] – Bed of Penne Pasta mixed with tomato basil sauce and topped with juicy shrimps sauteed in roasted garlic butter sauce, brocolli and bell peppers. It had the right amount of sauce (wasn't too saucey) and was quite flavorful. The quantity is enough for 2 or one very hungry man 😆
8. Chocolate Shot [AED23] – One of the most insane shots I've ever had!! It was SO thick you will not be able to have it in one gulp! This is a MUSTTTTT HAVE !!!!!!! PLEASE GUYS 🙂
9. Hot Chocolate Cake [AED48] – I have never come across a HOT CHOCOLATE CAKE. This dessert consists of a regular decadent circular cake and is topped with a LOT of THICK and indulgent Hot Chocolate! If this isn't chocolate heaven; I don't know what is :'( <3
PS: Out of all the branches I've visited; the one at Palm Jumeirah Golden Mile is definitely my favourite! They have a FANTASTIC view 😈