It's not a surprise I (literally the biggest dessert-holic ever) have tried SEVERAL cakes around Dubai. What stands out for me are below  😉
A simple Summary of the below post if you're too lazy to scroll all the way down 😆 ;
Chocolate Cake

I would go for Sugaholic's Flake Cake OR the Nutella Cheesecake.
Classic 

Red Velvet Cake (with Cream Cheese or Vanilla Icing)

 Definitely Magnolia Bakery
However, if I wanted the same 

Red Velvet as a Cheesecake

I would go for Brownie Point or Cheesecake Factory!
If you're a chocolate lover like I am and want your 

Red Velvet Cake with Oreos and chocolate cream cheese

– Sugarmoo is going to save your day!!!
Get out of your comfort zone? try Melange Dubai's 

Salted Caramel Chocolate Cake

, Sugaholic's 

Rose and Pistachio Cake

 Brownie Point's 

Saffron and Pistachio Cake

!!!
1. Sugaholic Bakeshop 
The most important thing about Sugaholic that people don't understand – You GET what you ASK FOR. A few pointers that'll help you make the right decision;
– If you opt for a FERRERO ROCHER cake the NUTS in the ganache will absorb the moisture from the cake and will make the cake dry.
– If your aim is just to make the CAKE look GOOD with a LOT of Fondant Designs – the Fondant/Marzipan once again will absorb the moisture from your cake. In conclusion; do not get a highly decorated Fondant Cake.
– Why is Sugaholic's Fondant so thick most of the time? To support everything that goes on top of it.
– I've heard several people say "Their Flakes Cake is too sweet". I've honestly had Raw Flakes chocolate and they pretty much taste the same to me – Don't Opt for something you know you may not like.
2. Sugarmoo Desserts 
Not only is Sugarmoo's Redvelvet cake supple and loaded with flavor; they've played it smart and enhanced the flavor by adding Oreo chunks in their chocolate cream cheese icing. They DEFINITELY aren't stingy in the amount of icing they apply between every layer. Although they claim it feeds around 8 people, I'm certain it can definitely satisfy way more. Looks can be deceiving – each slice MAY look small to you but it is VERY VERY rich!
As far as their chocolate cake is concerned – they have put a crazy amount of frosting between each layer (as you can see in the below picture). It was surprisingly not too sweet, the sponge was soft and the cake is lighter in comparison to their Red Velvet Cake.
3. The Coffee Club MiddleEast 
It's my first time I've come across a Gold Cake. This Chocolate Fudge Cake is beyond sinful. It is rich, creamy and has a very fudge-like texture. I preferred heating it for about 10 seconds before indulging in it to bring out the flavor 😳 . The whole chocolate fudge cake is available upon request and pre-order.
4. Sukar House of Desserts 
The Kunafa Cheesecake is the best flavor from Sukar! Forget the ol' regular cakes that are available at every single party! Bring out the Kunafa cheesecake and it'll definitely WOW your guests 😉 . The cake is accompanied with a sugar syrup that has to be poured on every slice. It is delicious!! If you don't put nuf syrup, the cake will come off as dry.
5. Magnolia Bakery 
Out of all the flavors, my favourites are the Devils Chocolate Cake, Red Velvet with Vanilla Cream and Lotus Cheesecake!
6. Cheesecake Factory 
Does Cheesecake need any introduction? And yes, whole cakes are available 😉 My favorite – Oreo cheesecake!
7. Lavender Cake from Culinary Boutique 
I have personally never tried a Lavender Cake and I never expected this particular one to taste this good. The flavor is pretty powerful and it's a weee bit higher on my 'Sweetness Scale'.
8. Honey Cake from Spinneys 
This definitely isn't the most beautiful cake you will come across but it (I guarantee) IS a very tasty cake + light + juicy! If you want something written on it; head over to any bakery close-by. I'm pretty sure they won't mind writing a message for you with a small charge ofcourse 😉 . Or better yet, you can purchase several fondant figures from Sugaholic (must pre-order) or or buy cute little/massive candles and dump 'em all on the cake!  😆
Note: The Honey Cake in Carrefour has more cream and less sponge whereas the one served in Spinneys has more flavor and consists of far more sponge than cream (which I prefer)
9. Baked Cheesecake with Salted Caramel Crumble [AED40 (small portion enough for 2) AED60 (to share)] from The Black Lion
Fantastic Cheesecake with mouthwatering flavor. You may be astounded by the small size of one cheesecake but fear not, it's excessively rich and hard to finish (ESPECIALLY after a meal >_<)
10. Baked Cheesecake (with Blueberry Sauce) [AED34 (sufficient for 2-3)] from Clinton St. Bakery Dubai 
Majority of the places in Dubai always serve no-bake cheesecakes. If you're looking for a non-chilled baked cheesecake, HERE GOES!;
Delicious flavor, stiff in composition and very rich/filling.
11. Ricotta Cheesecake with Caramel Topping [AED45 (sufficient for 2)] from Fratelli La Bufala
The texture of this cheesecake is not that smooth unlike other cheesecakes. It's more rugged and semi-stiff but nonetheless it was amazing!
12. Strawberry Cheesecake from Costa UAE 
Costa was falling back when it came to their Desserts. But now they've definitely upped their game and serve one of the best cheesecakes I've had!! Their Strawberry cheesecake is very light in texture and phenomenal in taste!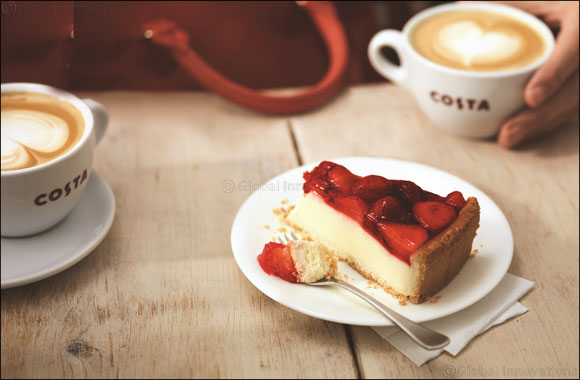 13. Chocolate Salted Caramel Cake from Melange Dubai [6 inch for AED150 – enough for atleast 8/10 people]
This Cake (as you can see in the video) is accompanied with Salted Caramel syringes and has Salted Caramel Icing. The taste is exceptional and this is indeed one of the best and most unique cakes I've had in Dubai!
14. Dulce De Leche Cheesecake from Gaucho Dubai
15. Red Velvet Cheesecake, New York Style Cheesecake and Saffron & Pistachio Cake from Brownie Point [AED 15 for a slice and whole cakes available]
Brownie Point has one of the best Red Velvet Cheesecakes in town. You will only believe how decadent it is when you consume it. One slice is rich enough to fill you and probably your friend as well (ITS EGGLESS TOO). Moreover their saffron and pistachio cake is one of the most unique flavors I have come across. It is a fantastic combination and is a great option for people who aren't fans of chocolate.
The New York cheesecake on the other hand once again has ticked all boxes. The crust is perfectly done whereas the cake is beautifully baked with perfect texture and taste.
16. Nutella Cheesecake from Carluccious [AED 38 for a slice]
One of the best Nutella Cheesecake's I've ever had! Soft yet thick + Delicious + Good Quality, a combination that is hard to find these days!